For French luxury furniture at its best, there's no better place to go than taillardat.fr. This firm specializes in creating beautifully crafted pieces in the style of the Golden Age of French furniture. This encompasses designs based on 18th and 19th century movements, including Louis XV, Louis XVI, the Directory, Regency and Empire looks.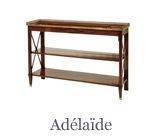 The choice of furniture items is equally wide-ranging. All kinds of tables, from consoles and bedside tables to low lounge tables and large desks rub shoulders with beds, sofas, chests of drawers, benches and mirrors.
Taillardat's craftspeople boast a wide range of expert skills from gilding, sculpting, working bronze, creating patinas and more, enabling them to recreate the flamboyant looks for which this period was famous. However, there are many designs that manage to combine elegance with practicality. The Empire lounge table selection is an excellent example of this.
Equally sophisticated yet functional is the line of consoles including the Adélaïde model, which you can see below. Many are richly ornamented with materials such as bronze and marble. Top of the range woods are used to add another layer of opulence to these pieces. These include beech, oak, cherrywood and mahogany.